Cinnamon Stick from Vietnam is mostly harvested in Yenbai, Lao Cai, Quang Nam provinces. Total area of cinnamon cultivation is more than 150,000 ha. The annual quantity is 30000 tons of all cinnamon stick and others accordingly. But… 90% of total production fresh cinnamon is from Yen Bai. That is the North mountain areas of Vietnam.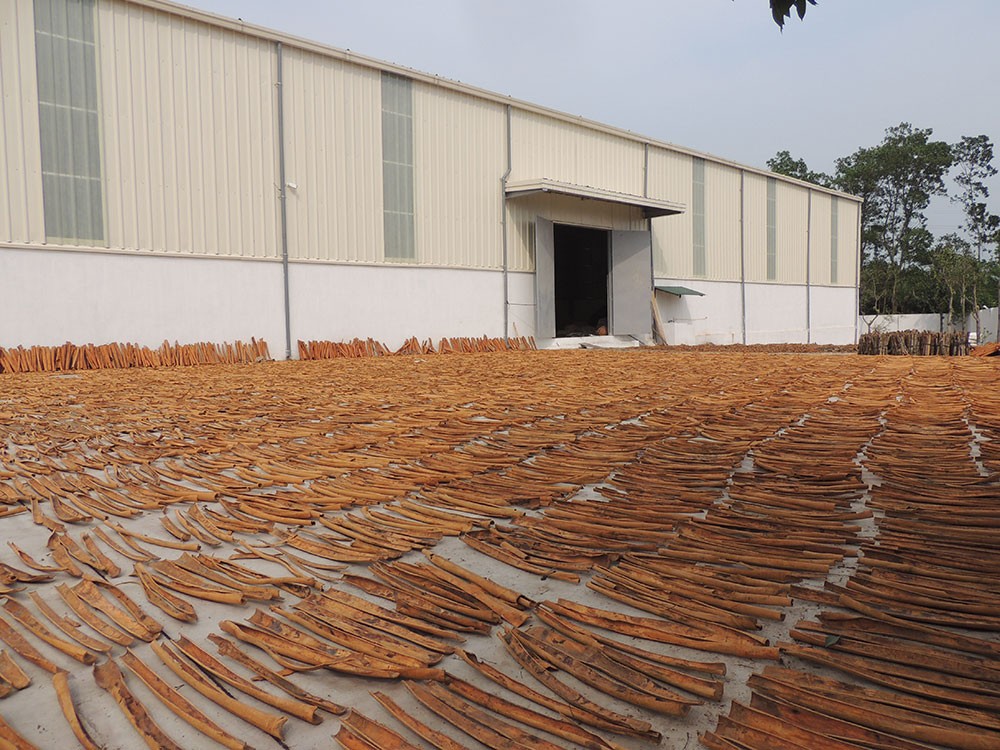 (Processing Vietnam cinnamon Stick with first step drying)

1. Processing from forest to table:  cinnamon stick from vietnam has very competitive price. In fact, there are 2 crops: main crop in April-May and sub crop in September-October each year. Furthermore, April/May season is summer time, quality of Cinnamon stick is the best in a year. Which is scroll percentage higher than it is in sub-crop. And the Cinnamon stick from Vietnam is well dried under sunshine. In summer season, the temperature is between 35*-42*C. Hence, assured fully dried of all cinnamon products.
As a partner, Elmar always recommend the clients to import Vietnam cinnamon in main season. In order to have The Best Price Cinnamon Stick in Vietnam and quality. Until now, we have been exporting Cassia products to more than 30 countries. For example: USA, Canada, Caribbean countries, EU, Middle East, Asian countries, etc. As a result, our team exported more than 9000 MTs of Cassia products in 2019.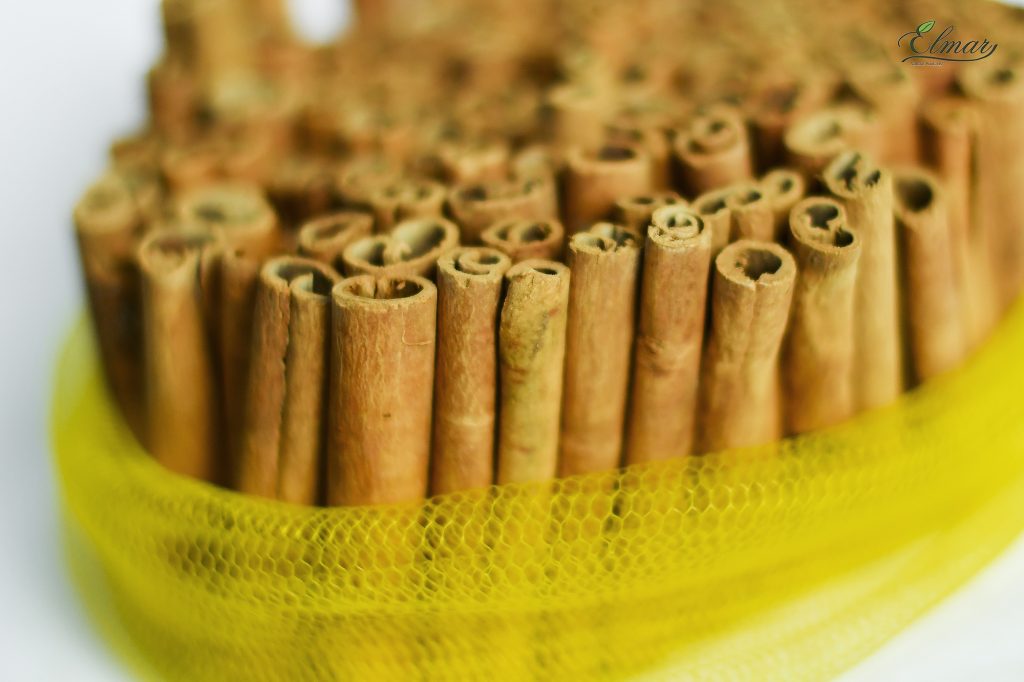 (Cinnamon Stick 7cm packing mesh bag 1kg)
2. Quality is our most concern: Our plant harvest and process it without using synthetic chemicals, pesticides, non GMO. The Cinnamon stick from Vietnam contains very high natural oil content. In addition, we monitor, register the quality of fresh cinnamon. And we also the process of cleaning, sorting, drying, packing and delivery. Therefore, QC team commit the high standards of food safety. Our factory operates under ISO22000:2018, SSOP and HACCP.
As indicated, the most advantage of Cinnamon Stick in Vietnam (cassia vera AA)  is oil content. Which is around 6%, double time higher than Indonesia and Chinese cassia original. However, the price is much cheaper. Accordingly, the cinnamon price in Vietnam is 50% cheaper than Ceylon Cinnnamon in Srilanka. Hence, the demand of Vietnamese Cinnamon dramatically increased from the other parts of the world for past 3 years. Though above… the price of cinnamon in Vietnam is still very competitive.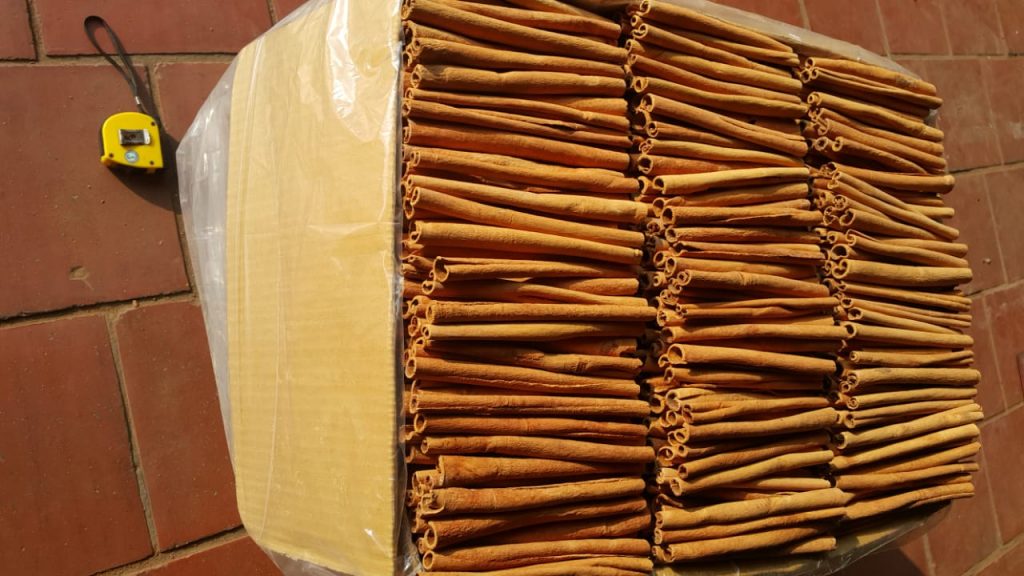 Vietnam Cinnamon Stick Length 30cm: 10kg net/carton ( Cinnamon Stick Long )
As a manufacturer, we control roll percentage, length of Cinnamon Stick. There are standard quality with 80% roll. And the premium quality is 90-95% roll. We have been exporting to the USA with Cinnamon Stick 2.75″, roll 90%. Moreover, we assure the Lead content in our product is lower than 1 ppm.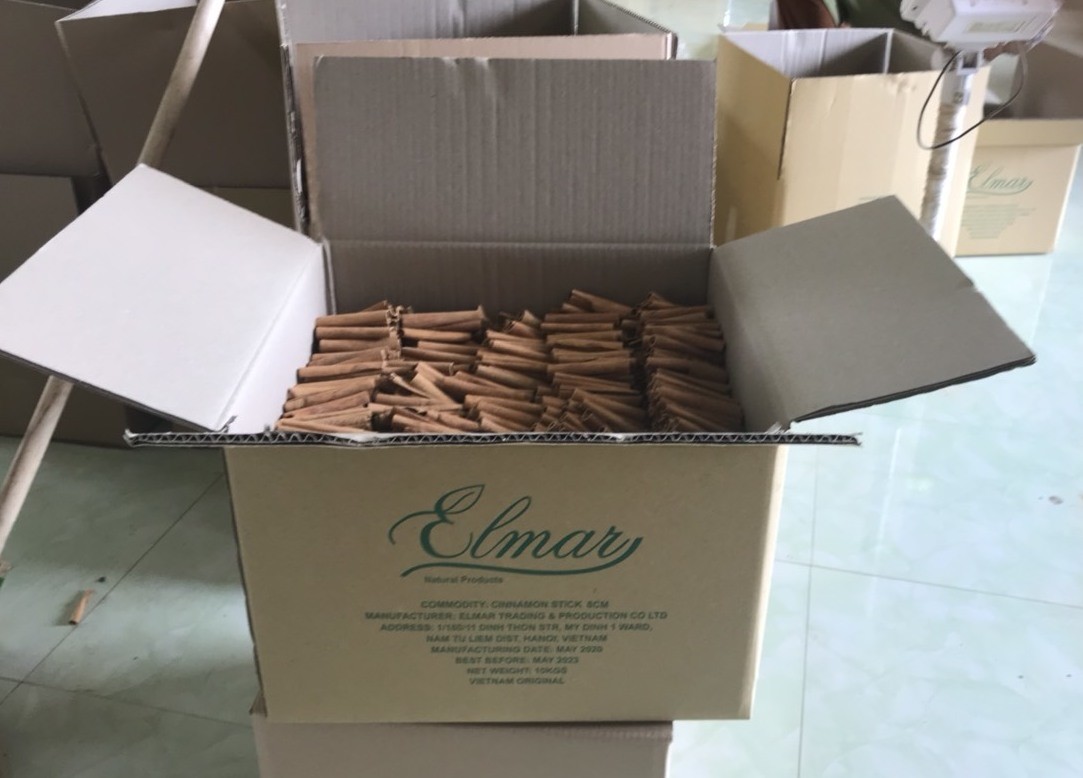 (Cinnamon Stick 2.75″ roll 90%, oil content 5% min)
For decoration purpose, we can do hand selected Cinnamon Stick. The roll percentage of product is 98-100%. Furthermore, the length should be 2″ (5cm). We have exported Cinnamon Stick for decoration to UK, Poland, Turkey.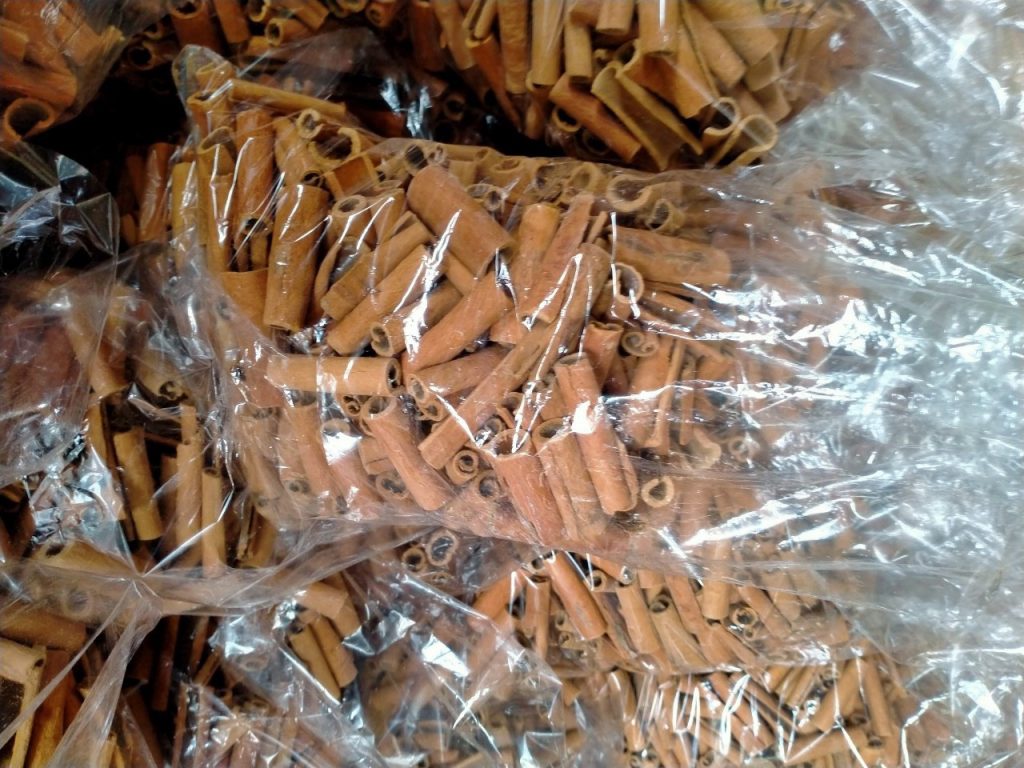 (Cinnamon Stick 2″ for decoration packed in 1kg PE bag x 10 in carton)
3. Regarding to the markets: Before 2014, we mainly export Cinnamon stick from Vietnam to India, Taiwan. As result of a good quality cinnamon, competitive price, the rest of world is now buying from Vietnam.  For the past three years, demand has been strong growth in exports to more than 80 countries. For example: the American, EU countries, Middle East. People is using Cinnamon stick from Vietnam for replacement with Cassia Vera AA from Indonesia. Also the Ceylon cinnamon from Sri lanka is losing its own market because of this.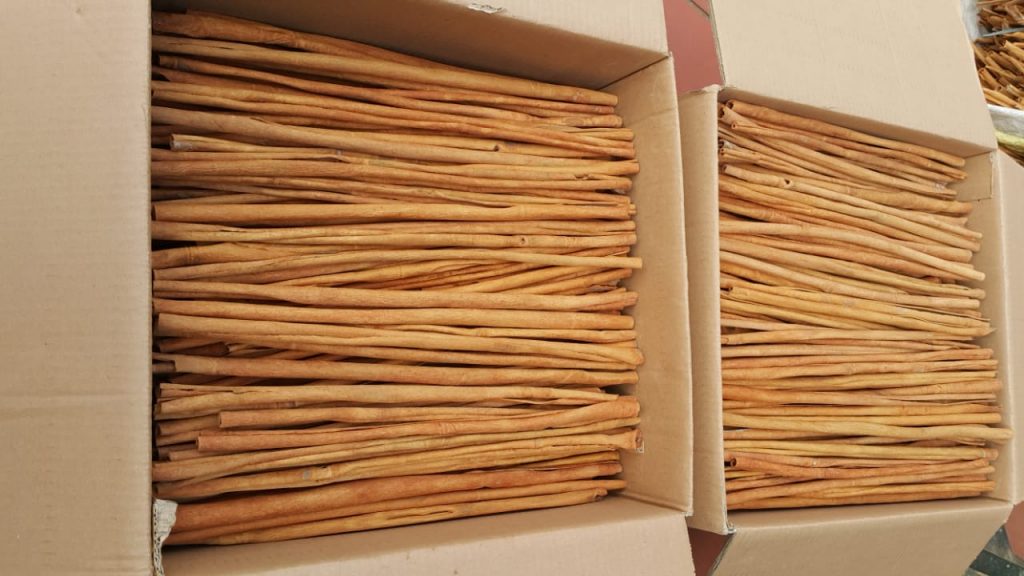 (Cinnamon stick from Vietnam with maximum length 50-60cm: in 10kgs carton)
In common, Cinnamon stick from Vietnam has size 5cm, 6cm, 7cm, 10cm, 15cm, 20cm. 50-55cm. These sizes are consumed in American, EU countries. And the cinnamon stick size 8-10cm is mostly preferred by Middle East, Asian markets.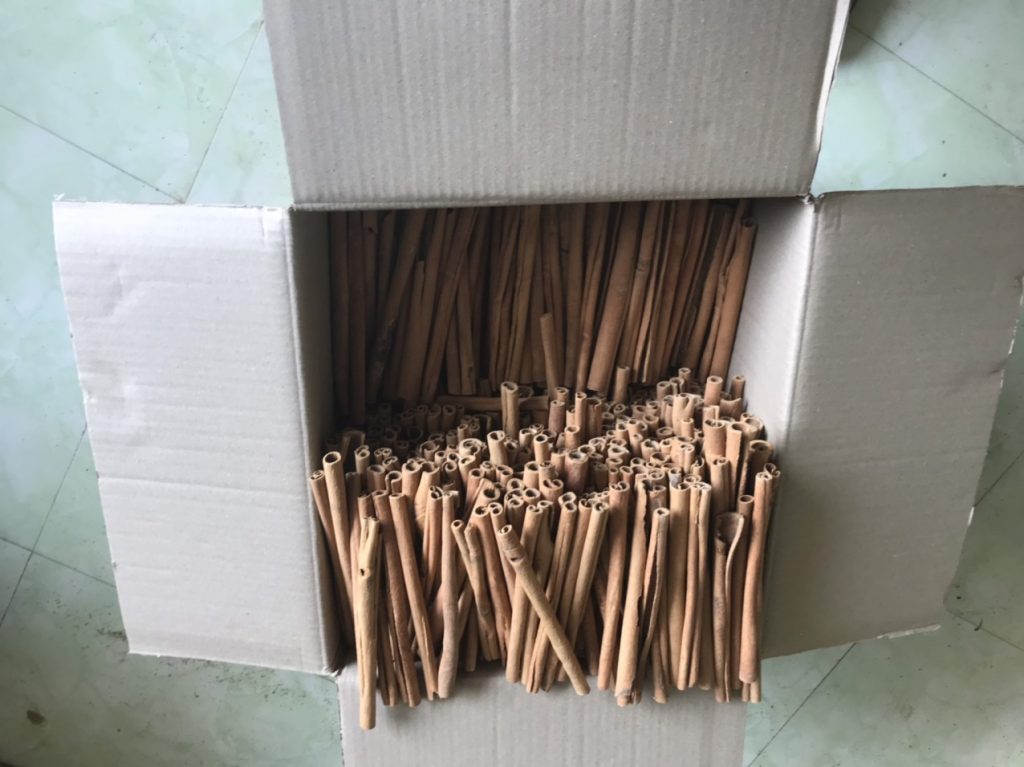 (Cinnamon Stick 20cm length roll 90%)
There are several types of packing. For example: 1kg PE bag x 20 in carton, 1kg mesh bag x 20 in carton, bulk packing. The Cinnamon Stick price in Vietnam with retail packages is $120-150 per ton higher than bulk packing.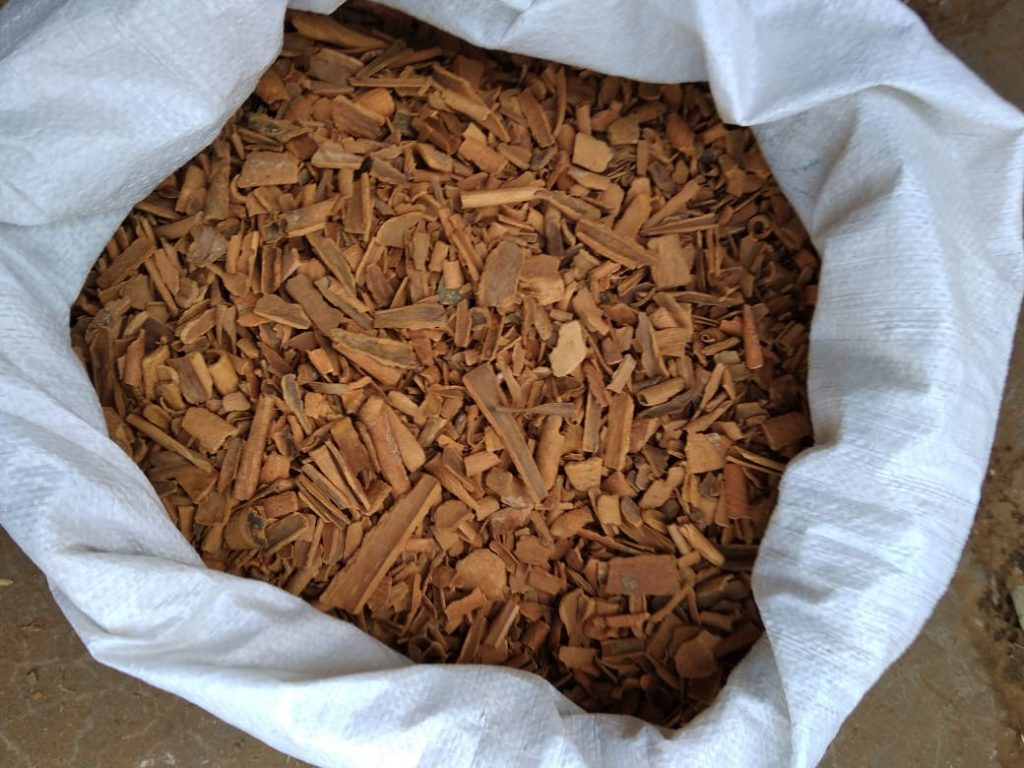 (Broken Cassia inVietnam KABC 5% Oil Content)
Our factory process Vietnam Cassia Vera not only in whole/broken form but also in CINNAMON POWDER. For grinding purpose, we choose between 2 types of Cinnamon bark. Which are Broken Cassia KABC (5% oil content) and Cassia KBBC (with 1.5% oil content). This is depend on requirement of markets about quality and Ciinamon Powder price.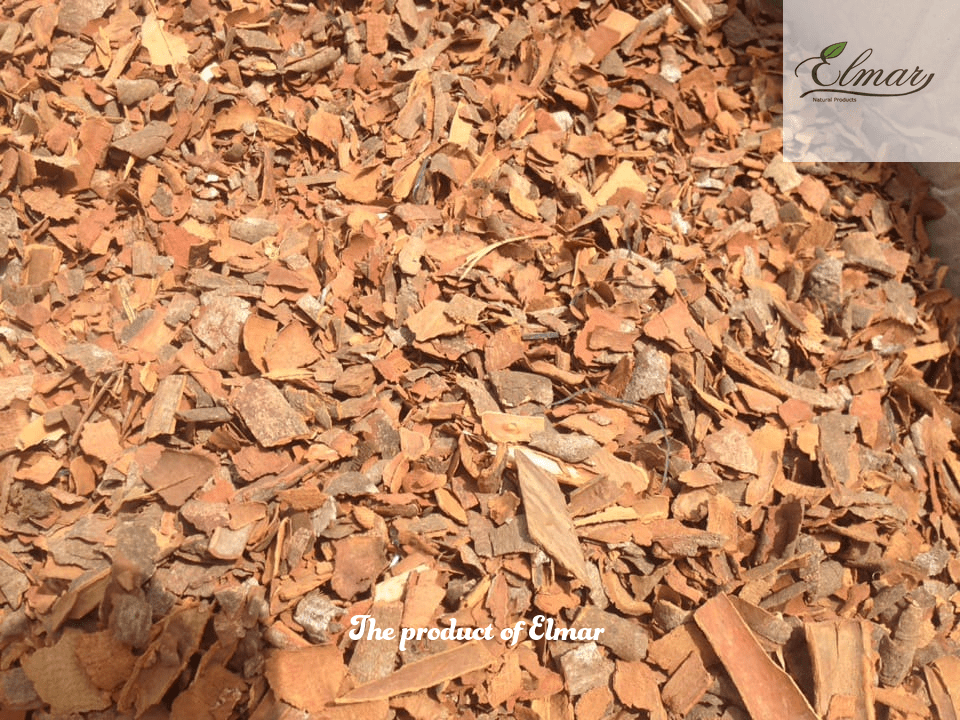 (Broken Cassia KBBC in Vietnam )
With a vision of introducing a high quality Cassia and more competitive prices, we are looking forward to serve the people a wonderful taste of spices from Vietnam. Our business philosophy is to commit win – win cooperation among parties. Furthermore, we are doing the best to make the world better and better.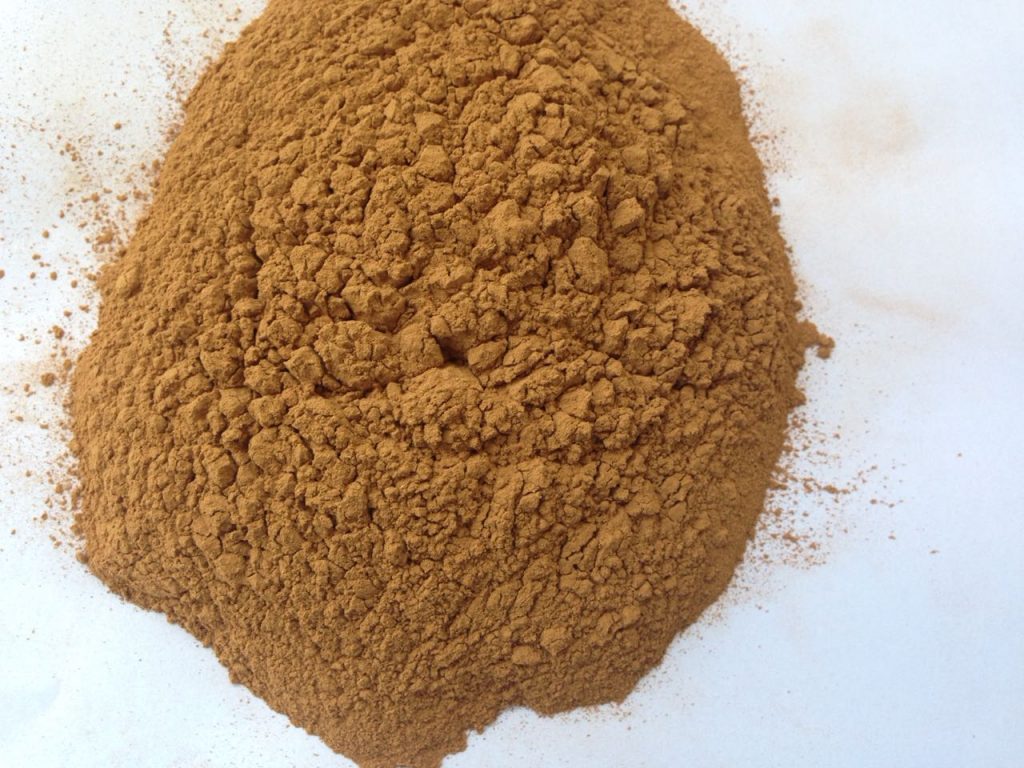 (Powder Cinnamon: Oil content 1.5-2-2.5-3% for EU and American market)
With modern factory, highly equipped, we are grinding Cinnamon powder 100% from Vietnam Cinnamon. We have advantages with cheaper labor cost, and near the plantation. Hence, Elmar is offering cinnamon powder is being offered at high quality, 100% pure, and very competitive price. The cinnamon powder has oil content from 1% to 5%. Although we export the most popular 2% oil content cinnamon powder.
All in all, we would like to offer you our high quality Vietnam Cinnamon Stick price based on terms and conditions:
Commodity: Cinnamon Stick from Vietnam
Trademark: Natural Elmar  or as per clients' requirement
Types: Stick, Broken, Powder
Annual capacity: 10000 MTs or more than 900 MTs/month
Delivery time: 7-10 working days after receiving deposit or original L/C and label confirmation
Guarantee time: From April/May and September/October
Packing: 5kg – 10kg net/carton, 1kg mesh/PE bag x 10 in carton
Shelf life: 36 months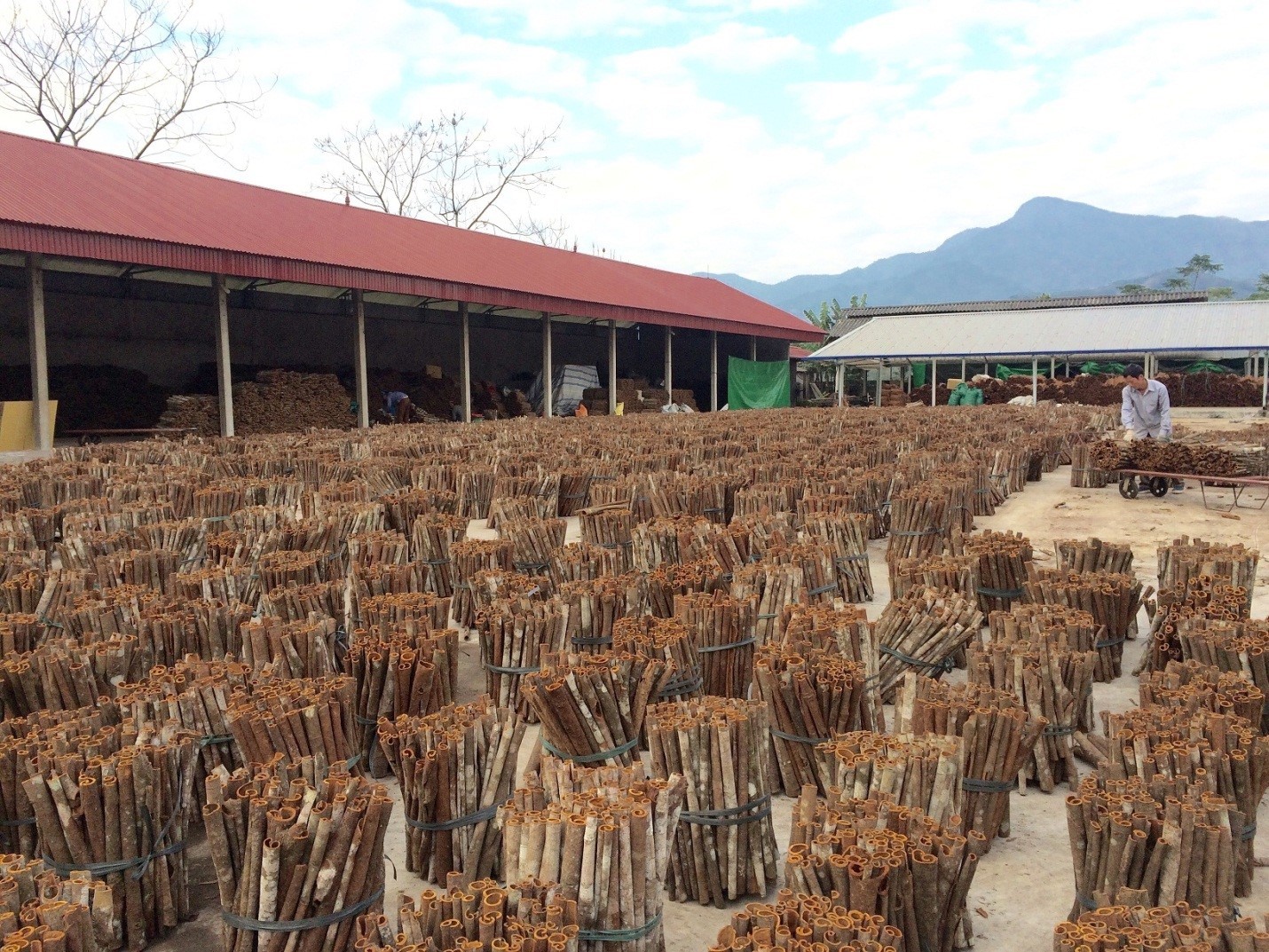 (Tube Cinnamon 40-45cm with skin 3-3.5% oil content)
In summary, we would like to be your reliable partner for Vietnamese high quality cinnamon . In addition, if customers need samples, we will send them to customers. The samples are free but freight, customs fees, and other fees are customers' responsibility.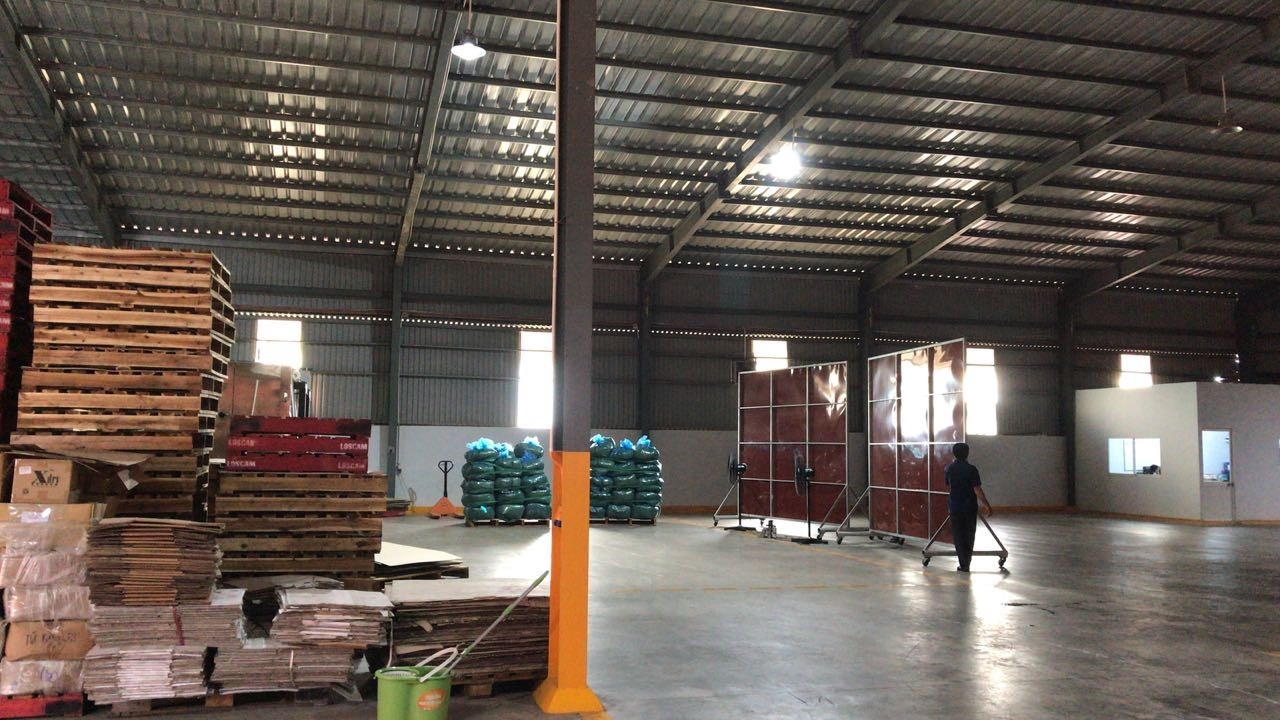 (Warehouse for storage CinnamonPowder)
We also produce the Split Cinnamon which is an importance spice for Indian dishes:

(Split Cassia/Cinnamon in 10kgs carton)
 4. Organic Cinnamon Stick:
For the past 20 years, the demand of organic cinnamon products are growing higher and higher. People need to use natural products, without pesticide. Hence, Elmar has been cooperating with more than 50 farmers. We train the farmers not to use chemicals during cultivating the cinnamon. Our QA staff conduct training for farmers twice in a year. We also test the pesticide of every batch by EUROFIN. Moreover, we store the Organic Cinnamon in separate warehouse. It is kept far from Conventional Cinnamon.
The Organic Certifier is Control Union. With audit farms/factory once in a year.
Our organic farms are more than 200 hecta. Therefore, we expect to harvest 1600 – 1800 tons of Organic Cinnamon annually. Our vision is expanding the Organic Cinnamon Farms to 1000 hecta in 2025. And achieve the Fair Trade for Organic Cinnamon. Which we will support farmers for a long term relationships. With fair trade agreements, the farmers will be happy to take care of their own Organic farms.

(100% Organic Cinnamon Stick from Vietnam USDA/EU certified)
Our scopes of Organic products are: Organic Cinnamon Stick, Organic Saigon Cinnamon Ground, Organic Cinnamon Bark. We assure the product is 100% free pesticide, non GMO, low residual of Lead (1ppm max)
We aim at supplying Organic Cinnamon products to all over the world. Hence, people could use Organic Vietnam Cinnamon at cheaper price than the Srilanka original.
For more information, please contact us on the following information:
Company: Elmar Trading & Production Co Ltd
Address: 1/180/11 Dinh Thon street, My Dinh 1 ward, Nam Tu Liem district, Hanoi, Vietnam
Factory: Van Thai commune, Van Giang hamlet, Cam Giang district, Hai Duong province, Vietnam
Tel/Skype/Whatsapp: +84918616691
Website: http://elmarspices.com
Email: [email protected]
THE RELATED PRODUCTS:

BLACK PEPPER
DESICCATED COCONUT
CASHEW NUT
STAR ANISE